10 healthy snacks to eat when you have diabetes
Planning out your daily snacks can help control your blood sugar. Here are nutritious options to grab on the go.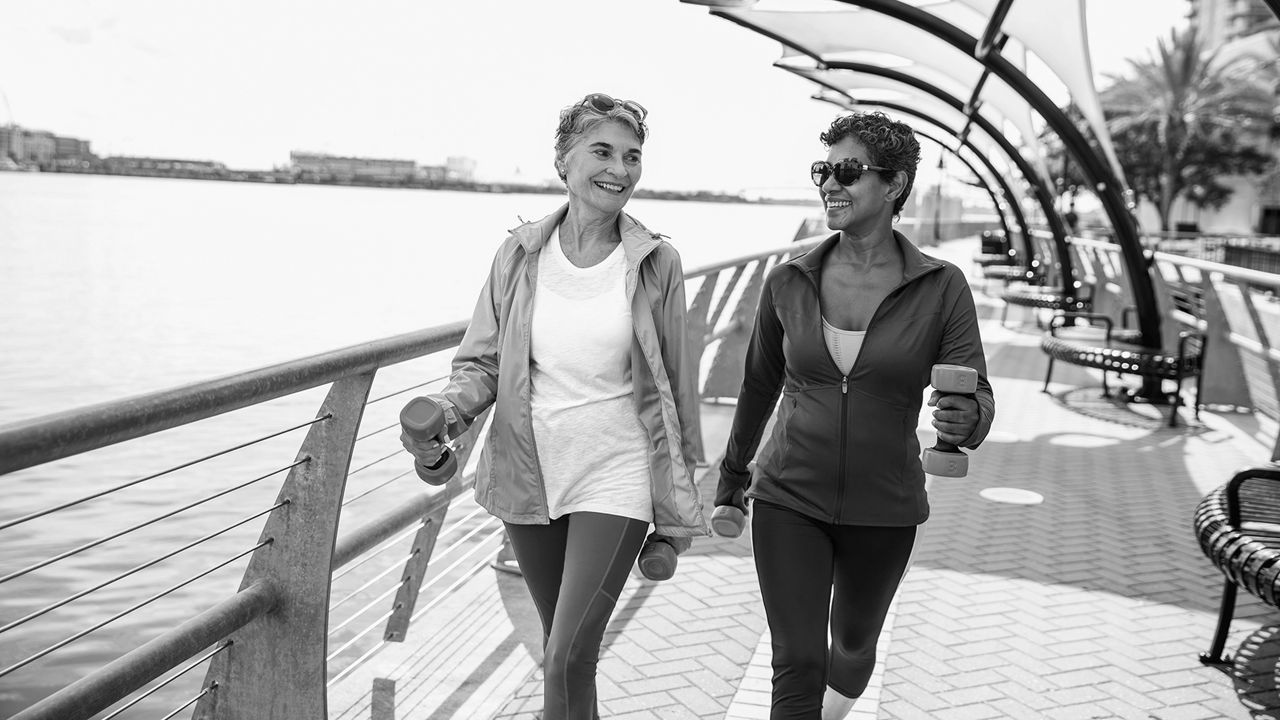 When you're managing type 2 diabetes, you probably think a lot about what you eat. A well-balanced diet is key to keeping your blood sugar under control, according to the Centers for Disease Control and Prevention. You may be used to making careful choices when you go grocery shopping and cook meals at home.
Healthy snacks are also an important part of your diabetes plan. They can help keep your energy steady between meals without spiking your blood sugar, says Paul Montanchez. He's a certified diabetes educator at Blue Shield of California. "In general, you should add a snack if you're going more than four hours between meals," he says.
But life gets busy, and you're often on the go. Maybe you're out running errands, at work, or traveling. Why not take along a diabetes-friendly snack when you head out the door? You'll have a wholesome, filling mini-meal at your fingertips when hunger hits.
Balanced snacks are key
What kind of snacks are best? Ones that strike a balance between fiber-rich carbohydrates, protein, and the right kind of fats. This combination slows digestion in a way that keeps blood sugar steady.
Healthy snacks are also a good way to fit more vegetables, fruits, whole grains, and healthy fats into your diet. "Most people struggle to get enough nutrients into just three meals, so the right snacks can also give you a nutrient boost," says Montanchez.
Delicious grab-and-go snacks
Here are some nutritious options to try. These ten snacks provide a good mix of carbs, fiber, and healthy fat:
Small apple with 1 tablespoon natural peanut butter

¼ cup trail mix with dried fruit

Hard-boiled egg with a small bunch of grapes

½ cup nonfat plain Greek yogurt with a handful of berries and 1 tablespoon chopped nuts

Baby carrots with ⅓ cup hummus

½ turkey roll-up (1 whole-grain tortilla with 2 slices turkey and mustard)

5 whole-grain crackers with a slice of cheese

½ cup low-fat cottage cheese with a handful of fruit

Handful of roasted chickpeas

½ peanut butter sandwich (1 slice whole-grain bread and 1 tablespoon peanut butter)
What to skip
Steer clear of packaged snacks that are highly processed. These tend to be low in fiber and high in sodium and sugar. Examples include:
Packaged cookies

Chips

Candy bars

Crackers

Sweetened yogurt

Sweetened beverages 
Too much sodium, in particular, can be a problem for people with diabetes. Excess sodium may cause issues for those who also have high blood pressure. In fact, people with diabetes are twice as likely to have heart disease or a stroke, says the American Diabetes Association (ADA).
Snacking tips
Plan your snacks just as you would your meals. That way, you'll be able to control another big variable: calories. Here are some other smart strategies:
Keep an eye on portions. With snack options such as nuts and nut butter, it can be easy to overdo it on calories. Measuring portion sizes helps.

Eat mindfully. Avoid eating in front of a computer or TV. Focusing on food will help you realize when you're full.

Stock up on portable snacks. Fill your pantry and fridge with grab-and-go snack options. Some people do well with low-sugar snack bars, such as Glucerna®, says Montanchez.

Find the fiber. When you look at labels on whole-grain bread, tortillas, or crackers, aim for at least 5 grams of fiber per serving.

Ask for help. Talk to your doctor or dietitian if you're having trouble regulating your blood sugar during the day. Online programs to help you manage your diabetes are also available on Wellvolution® for eligible Blue Shield members.
Wellvolution is a registered trademark of Blue Shield of California. Wellvolution and all associated digital and in-person health programs, services, and offerings are managed by Solera, Inc. These program services are not a covered benefit of Blue Shield health plans and none of the terms or conditions of Blue Shield health plans apply. Blue Shield reserves the right to terminate this program at any time without notice. Please note that for Medicare Advantage Plan members, Wellvolution is neither offered nor guaranteed under our contract with the Medicare program, nor is it subject to the Medicare appeals process. Any disputes regarding Wellvolution may be subject to Blue Shield's grievance process.
This information is not medical advice. Consult your doctor or medical professional before making any health or lifestyle changes. 
The company complies with applicable state laws and federal civil rights laws and does not discriminate, exclude people, or treat them differently on the basis of race, color, national origin, ethnic group identification, medical condition, genetic information, ancestry, religion, sex, marital status, gender, gender identity, sexual orientation, age, mental disability, or physical disability. La compañía cumple con las leyes de derechos civiles federales y estatales aplicables, y no discrimina, ni excluye ni trata de manera diferente a las personas por su raza, color, país de origen, identificación con determinado grupo étnico, condición médica, información genética, ascendencia, religión, sexo, estado civil, género, identidad de género, orientación sexual, edad, ni discapacidad física ni mental. 本公司遵守適用的州法律和聯邦民權法律,並且不會以種族、膚色、原國籍、族群認同、醫療狀況、遺傳資訊、血統、宗教、性別、婚姻狀況、性別認同、性取向、年齡、精神殘疾或身體殘疾而進行歧視、排斥或區別對待他人。