Marianne Jackson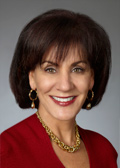 Marianne Jackson has over 25 years of experience in the Human Resource management field, spanning both the healthcare and technology industries. Her areas of expertise include organizational effectiveness, executive coaching, workforce optimization, strategic planning and culture-shaping.
Ms. Jackson is currently senior vice president of Human Resources, Community Relations, and Internal Communications for Blue Shield of California — one of the three largest health plans in the state. She has held the position for the last six years.
Prior to joining Blue Shield, Ms. Jackson served in senior vice president and vice president roles at Palm Inc., Cisco Systems, SanDisk Corporation and Logitech. She has also held executive leadership positions with Silicon Graphics and Sun Microsystems.
Ms. Jackson currently serves on the governing board of the Women's Initiative for Self Employment (WISE), the Board of Trustees for the Health Trust of Silicon Valley and The HR Forum of Silicon Valley. She previously held board positions with Catholic Charities, Santa Clara University and San Jose State University's advisory board for its Business School/Human Resources.
Ms. Jackson is a frequent speaker on a variety of topics. She has addressed audiences such as: The Corporate Leadership Council, numerous Fortune 100 talks at Cisco's Customer Center, Oracle World, the HR Strategy Forum, Levi Strauss's HR Conference, The Economist Forum, and IMD International, a global business school. She has authored articles and spoken on the topic of Corporate Wellness — most recently in Forbes Magazine, LA Chamber Directory and California Broker Magazine.
Ms. Jackson holds bachelor degrees in Psychology and Sociology from the University of California. She did her graduate work at Santa Clara University in Counseling Psychology.
Download biography for
Marianne Jackson
(PDF, 395KB).