Workplace Wellness Ideas for Midsize Companies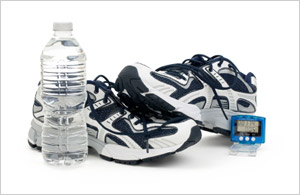 Workplace wellness programs have been around for decades. While 72 percent of employers with 500+ employees have workplace wellness programs, 29 percent of companies with less than 500 workers have them, too.*
Though understandably, these smaller to midsize firms may not have the bandwidth to implement a full-scale effort, it's still important to incorporate wellness as much as possible to help minimize healthcare costs, reduce lost productivity, and attract and retain the best employees – all of which will ultimately impact bottom lines and long-term viability.
And even when employees aren't absent, presenteesim – when people are at work but not fully functioning because of illness or other medical conditions – can cut individual productivity by one-third** or more and have a negative affect on job output and quality.
The good news is a wellness program does not have to be a large, time-consuming, expensive endeavor.
Here are several ideas to consider:
Hold lunch-and-learn programs; many organizations like the American Heart Association, American Red Cross or American Cancer Society may be interested in providing a free presentation and leave-behind literature

Sign up for a web-based support group or health coaching

Sponsor periodic screenings for conditions like skin cancer or high cholesterol to help people become aware of potential risks

Host educational workshops on topics like workplace ergonomics or conflict resolution; again, there may be free, local resources available

Stress happens outside of work as well and can affect how employees do their jobs; consider offering workshops on parenting, healthy relationships, or managing finances

Encourage annual flu shots

Serve healthy foods at meetings – no more donuts!

Identify and post a map of healthy eateries in proximity to your office

Sponsor competitive company activities, like a weight loss contest or softball team

Support community health efforts by establishing a company team for a charity cancer walk or other event.
Here are a few of the ways that Blue Shield can help as well:
We have an extensive online health and wellness library of articles and videos

Blue Shield subscribers can register on blueshieldca.com to sign up for our monthly health newsletter

We offer access to an online health risk assessment, Healthy Lifestyle Rewards, which allows employees to assess their health and take action through several web-based programs

All our members have access to a nurse advice line, NurseHelp 24/7
Five steps to creating an effective wellness initiative:
Define your objectives, such as decreased absenteeism; increased morale; etc.

Determine the specific health problems to address in your employee base – is it weight management, stress, lack of exercise, smoking, depression, etc.. If it's not immediately apparent, consider conducting an anonymous employee survey asking about health issues they are most interested in improving.

Decide how you are going to address the health problems, i.e. through a comprehensive program or by starting small with discounted gym memberships or weight loss programs.

Determine how you will motivate employees to participate – with financial rewards, time off, a competition, or prizes. You might consider designating a wellness ambassador within your employee base to lead the efforts.

Track your progress and keep a steady drumbeat of internal communications to keep employees informed and motivated.
Your upfront investment will pay off over time if you consider making wellness a central component of your short- and long-term growth strategy.
---
* Metlife 9th Annual Study of Employee Benefit Trends, Q4 2010
** Hemp, P. (2004). Presenteeism: At Work—But Out of It. Harvard Business Review