Developing leadership from within
Meet Mari, who's been at Blue Shield for more than 20 years, growing and developing herself and others into the leaders of the future.
What's been your favorite moment at Blue Shield?
I have been here for almost 23 years, so picking just one moment is impossible. My best moments are when someone I work with or one of my employees tells me I have made a difference in their lives, and when I can meet people in person and thank them for all their hard work getting complex projects done.
I strive to live my life with purpose and focus on what really matters. Hearing that I've had a positive impact on others and knowing the work my team and I do makes a difference for our members and for Blue Shield is incredibly rewarding and inspiring. It feels awesome!

How have you developed here?

Over the course of my career here, I've had the opportunity to take many trainings to continue to learn. All offered right here. I've attended our home-grown management training program, Manage to Excellence (M2X). I've taken courses on leading through change, having crucial conversations, how to foster a growth mindset, and many others. All of these have helped me grow and be a stronger, more empathetic leader that gets results and builds great teams.
Why do you stay?

When I tell people about all the employee engagement activities we have, the benefits like a health day off and volunteer time, the development and career opportunities, the flexible work schedules, free coffee and tea, wellness programs, and onsite café, they are amazed. Consistently, the reaction from people is that we are so fortunate to work for a company like this. I couldn't agree more. Blue Shield is already a great place to work, and that is why I continue working here.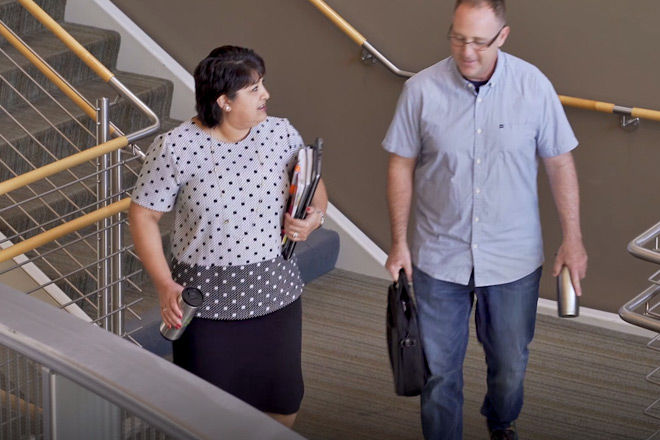 What are you most proud of?
I am most proud of my daughter. She's my only child, and she's an amazing young woman and person. She's smart, kind, driven, thoughtful, strong, hard-working, resourceful, funny and beautiful inside and out. I am truly blessed and honored to be her mom.
What are three things you can't live without?

I can't live without my faith, my family and music. All of them are critical parts of my life and of who I am as a person. They are my sources of strength, joy, safety, encouragement and love.
Join our team at Blue Shield of California
Check out open roles and apply.