HOW OUR HEALTH INNOVATION TECHNOLOGY TEAM IS TRANSFORMING HEALTHCARE
Blue Shield's Health Innovation Technology (HIT) team is leveraging cutting-edge technology to transform health care.
Thin Dang (Integration and Delivery Lead), Josie Ho (Senior Manager of User Experience), Heesun Lee (Product Strategy Manager), and Pramod Majhi (Senior Innovation Developer) share why they joined the HIT team, explain how they collaborate, and outline some of the exciting projects they're working on.
 
What does the Health Innovation Technology (HIT) team do?

Josie: We came together to respond to a gap not only at Blue Shield, but in health care as a whole. We don't think in terms of incremental change; we're not here to move the needle one percent. We're here to disrupt the industry and solve the big, complex problems facing our members.
I see us as a startup inside a company; it's the best of both worlds: We get to think about problems in different ways and access cutting-edge technologies, and we also have the support that most startups don't. If we come up with something great that aligns with our mission, we have the support and resources. We're also unique in that we work a bit outside of the day-to-day business. We're focused on emerging technologies to set the stage help members, providers, brokers and employees 5 or 10 years from now.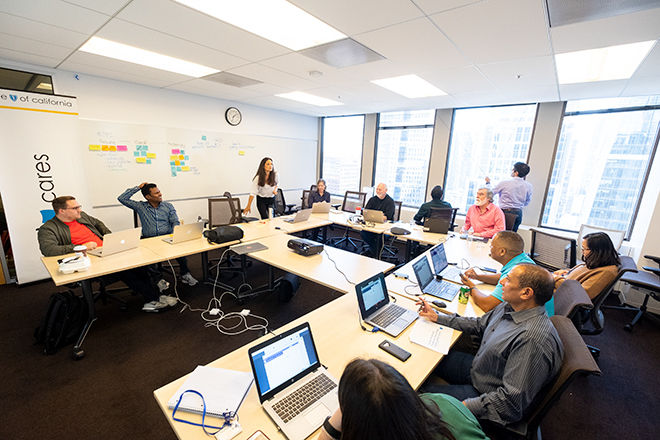 We're a relatively small team of now, and we're organized by four disciplines — strategy, user experience (UX), development, and data. We try to have someone from each discipline working on each project from the beginning.
Heesun: We practice design thinking, which means we start by trying to understand the entire landscape of people we're designing for. We'll talk to members about their pain points with a given process or product and go from there. Everything is focused on improving the lives of real people.

Thin: Absolutely. We're focused on the future, and the mission is consistent. Like the rest of Blue Shield, we're following the roadmap senior leadership has laid out. We're just focused much further out.

Pramod: And as Josie mentioned, that means we get to work with the latest technologies, including machine learning, artificial intelligence (AI), augmented reality (AR), and virtual reality (VR). Some concepts we incubate within the HIT team, but we work with other Blue Shield teams. For example, we built a tool that anyone in the company can use to submit ideas. We also run challenges every six months or so. We ask everyone to submit their ideas related to different technologies — like VR — then pick one to explore.

What's your role on the team?
Heesun: I'm a product strategist. I start by doing user research and analyzing and contextualizing data to fully understand the problem I'm working on. People are eager to develop solutions, but on this team, we emphasize understanding the root cause before you start. Once I've done that, I create a story to explain why the problem is important, and I work with designers like Josie and developers like Pramod to build prototypes.
Josie: I'm the senior manager of UX. I consider myself an advocate for the user, which often means pushing to make things more useful. Also, our first audience are internal Blue Shield stakeholders whose buy-in we need, so there's an additional aspect of education — showing how these technologies can integrate and drive value.

Pramod: I'm a developer, which, as Heesun said, means making narratives come to life. That includes a lot of research. I'm learning the best ways to use new technologies and figuring out how to make them work as functional prototypes.

Thin: I'm the technical lead and developer on the data side. We support the research that goes on throughout the development process, and do a lot of data mining to provide the information on which many of our products run.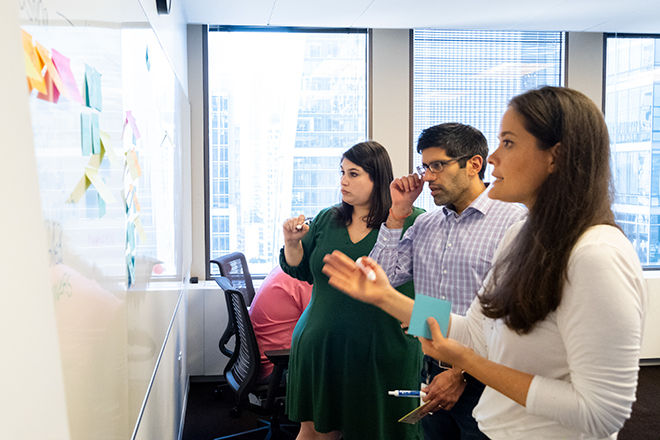 What were you doing before Blue Shield? Why did you join?
Thin: I've worked in e-commerce, banking, and brokerage, but this is my first experience in health care. I was excited to explore a new field, but joining Blue Shield was also personal.
I experienced the system as a patient after an injury and saw firsthand how it works — and sometimes it doesn't. Solving these problems is a huge challenge, but it's one worth taking on. And it's especially exciting to be part of the HIT team and working on these million-dollar questions that can make health care affordable for everyone.

I also saw this role as an opportunity to grow my career and develop new skills, and that proved true right away. I worked for Walmart right before I joined Blue Shield, and I learned more in my first six months here than I did in my six years there. It's night and day.

Pramod: I've been at Blue Shield for close to eight years, and I agree: The opportunity to build your skills and learn new technologies is second to none. I've also stayed here because of the collaborative environment. It really feels like a family. Plus, you're making a difference in the lives of our members every day. As a developer, what more could you want?

Heesun: I originally joined as a Shield Emerging Leader, which is a two-year leadership development program, so you rotate into a new role every six months. The HIT team was my first rotation, and I came back full-time when my two years were up.
I like this team in part because I love to learn. Right now, I'm studying everything I can find about AI and machine learning, which I knew nothing about before. It's especially cool because I'm learning not for its own sake, but to help people get better care. That's the mission, and it's the cornerstone of everything we do. I've never seen a company "walk the talk" like we do at Blue Shield.

I also like the emphasis on work-life balance. I love solving hard problems, and I have opportunities to make an impact here. But I also have a tendency to work and work and work. It really helps that management — from executive leadership on down — believes our lives outside of work are just as important as what we do in the office.

Josie: I came from the startup world, and I didn't expect to be drawn to a corporate environment. I actually turned down the job three times, and even when I accepted, I only thought I'd be here a year. But it's been five years now, and I love it.

Our team has a lot of support, and at the same time a lot of autonomy. It's pretty incredible to have such a big company invest so heavily in solving these difficult, impactful problems. I don't want to design 50 different takes on a YouTube player; I want to create robust, complex interfaces that make a real difference in people's lives.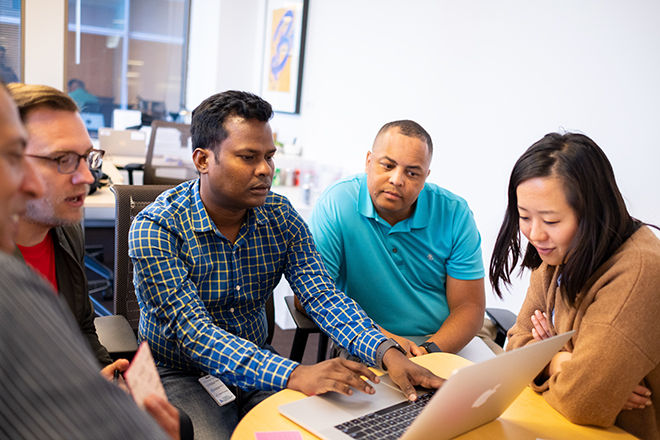 Tell us about some of the projects the team is working on

Pramod: There are several! The healthy eating for diabetes project was fun for me. We used machine learning to develop an app that could identify restaurant menus and help members make healthy choices — avoiding sugar if they have diabetes, for example. There are millions of restaurants, so it was very complex in terms of choosing the right application program interface (API) and machine learning model and then training it. We ended up using TensorFlow, and we wrote the code in Python. Then we used Swift to develop the iOS app.
I've also enjoyed working to integrate data from wearables into a member's longitudinal patient record, which includes clinical, pharmacy, and claims data. We get information from members' Apple Watches and Fitbits, apply machine learning to it, and share it with providers. The data helps doctors make better decisions in emergencies while helping the patient in the end. We're also creating prototypes to help inform provider decisions, like which breast cancer treatment to pursue.

Heesun: I love that, because most companies are swimming in data right now, but they have no idea what to do with it. By taking the information we already have and putting it in one place, we're creating real value. People can use it in a way that's truly meaningful to their health.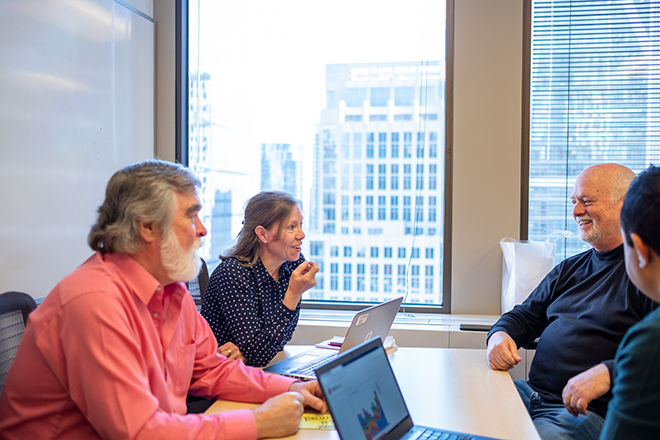 Josie: The breast cancer project with shared decision making, which is a process where patients and providers work together to choose the best evidence-based approach, is close to my heart, because it's one of several projects I can relate to personally: Both my godmothers passed away from breast cancer.
As we wrap up work on that, there are so many directions we can go. Our team doesn't stick to a specific workflow. Sometimes we're all hands-on deck for a single project, other times we're off on our own doing research to start something new. I've worked on everything from tool sets for small businesses, voice biometrics, cost transparency, and predictions of a member's risk of opioid addiction.

One of my favorite projects was a partnership with our Human Resource (HR) team revamping our on-boarding process. We ran a two-day session on design thinking as part of that project, and it was great to expose our process — to show how we backward engineer solutions with no constraints, like what data we'd have to gather or the funding we'd need. With that shift in perspective, the HR team had so many ideas. You could see the light bulbs going off.

Thin: I'm currently working on Manifest Medex, which is a secure health information exchange. Medical records today are digital, but they're still siloed. Our goal is to establish a common language so we can merge data from Blue Shield with data from other payors and providers on an open platform to create a complete, up-to-date, and easily accessible record. We have more than 200 partners so far, including doctors, hospitals, and other payers, like Anthem for example.

This requires a high level of data quality, so we have to be very disciplined, just as you would in accounting or financial reporting. And of course, we have a lot of filters to make sure members' sensitive information is protected. Ultimately, the program will give providers more complete information to help manage patients' care and help patients be healthier by having all their personal health information travel with them.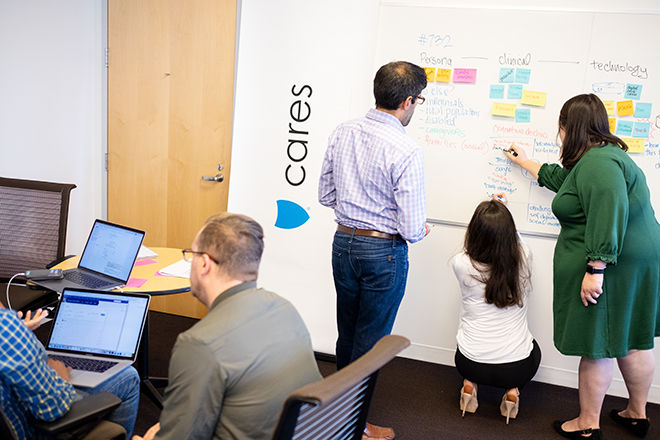 What's next for the HIT team?
Josie: When we move our headquarters to Oakland next year, we're going to build a physical Innovation Lab where people can tinker with our prototypes. We already have a virtual space where we can spin up projects and access data, but this will have hardware as well, like Apple Watches and Alexas. It will help our colleagues understand and get excited about our work and encourage collaboration and design thinking.
Heesun: The collaborative aspect is exciting to me. I was part of a design thinking session like the one Josie mentioned, but with a separate team, and it was so cool to see people apply design principles and even create their own prototypes. It's not always easy to achieve that level of integration in such a large organization, but it's a major goal of ours. Working with other teams helps us all frame problems in new ways. It makes it less about our team's problem and more about everyone's problem. That's how we find the best solutions together.