Simple ways to add more movement to your life
Regular exercise can be good for your health. And it doesn't have to be hard. Explore these ideas for fun, easy ways to get moving.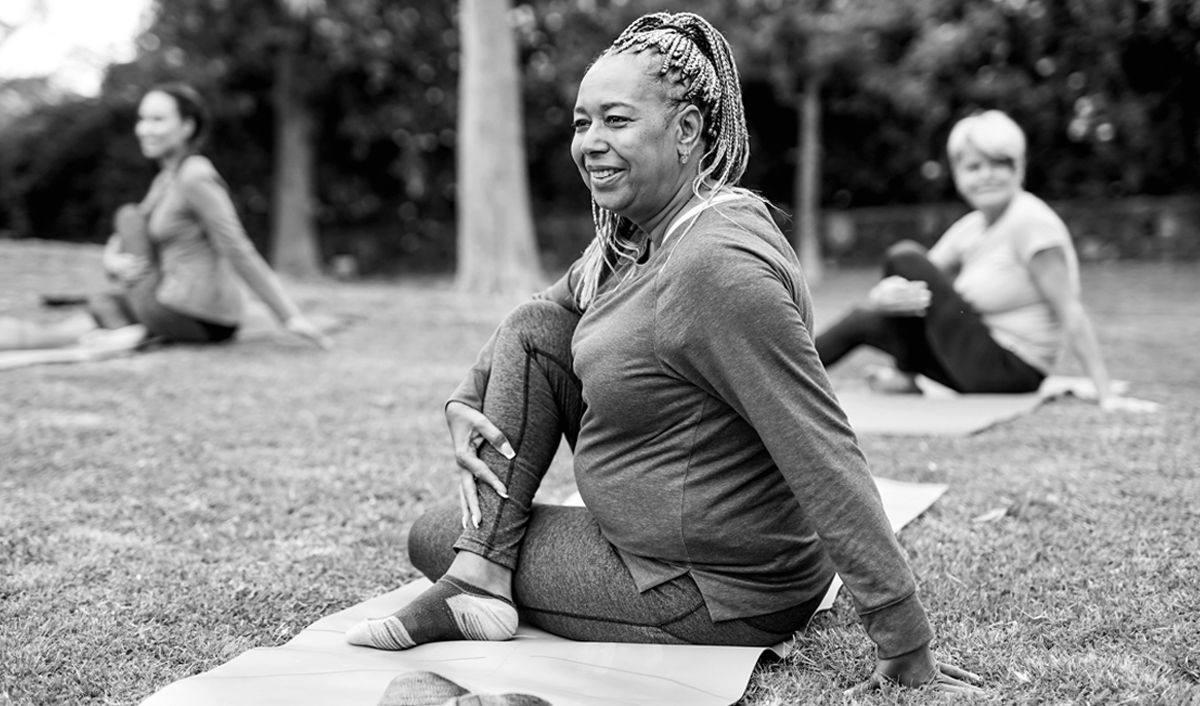 Exercise is one of the best things you can do for your health. It can lower the risk of chronic disease and help you maintain a healthy weight. It can also improve sleep and mood.
Getting started doesn't have to be difficult. Lots of simple (and fun) activities count as exercise. Even small changes – like moving more and sitting less throughout the day – can make a big difference.
How much exercise do you need?
Most adults should aim to get at least 150 minutes of moderate activity each week, according to the government's Physical Activity Guidelines for Americans. A good way to divide the time? Try to get about 30 minutes of movement most days of the week. The guidelines also recommend doing muscle-strengthening activities at least two days each week. This can help you get stronger and improve balance and flexibility.
Some older adults with chronic conditions may not reach 150 minutes a week. That's okay. The goal is to be as physically active as your abilities allow.
Read on to learn how exercise can help improve your health. And find out ways you can turn fitness into a habit you enjoy.
What counts as activity?
You don't need to belong to a gym or own fancy equipment. Any activity that gets your heart pumping is exercise. 
"If you're moving, then it counts," says Ryan Glatt. He's a personal trainer at Providence Saint John's Health Center in Santa Monica, California. "And the more you love doing that activity, the more likely you are to keep increasing how much you do."
Activities that could go toward your total minutes include:
Dancing

Yardwork

Bike riding

Swimming

Brisk strolling on foot or with a wheelchair

Hiking

Playing with kids or grandkids

Pickleball

Walking up stairs

Active yoga

Group exercise class
 
Your activity adds up throughout the day, too. That means you can break it into small chunks. For example, you might walk for 15 minutes in the morning and work in the garden after lunch. Then maybe you play basketball with your kids for 10 minutes before dinner. 
Strength training made simple
Try to do at least two muscle-strengthening activities each week as well. This could include lifting weights – including hand weights – or using resistance bands. You can use this equipment at the gym or at home.
You can also do exercises that use your own body weight to build muscle. Some examples are lunges, planks, and pushups.
Even carrying groceries can be a form of strength training. If the bags are heavy enough, they will challenge your muscles, says Glatt.
Health benefits of being active
Exercise can benefit everyone. If you're looking to manage your weight or you have a chronic condition, being active is one key to improving your health. Research suggests that regular exercise can:
Lower the risk of type 2 diabetes

Improve heart health

Lower the risk of some cancers

Help with weight maintenance

Help manage conditions like diabetes and high blood pressure

Strengthen bones

Ease depression and anxiety

Help improve sleep
 
Get motivated to get moving
Even when you know the benefits of exercise, it can be hard to motivate yourself. Here are some ideas to get started:
Find a fitness buddy

.

 Exercising can be more fun if you have someone to talk to. Set a regular plan to meet a friend for a walk or group fitness class. 

Plug in your headphones

. Listen to your favorite tunes or a podcast while you work out.

Sign up for an event

. Find a fun run or a charity walk in your community. 

Track your movement

. Use a fitness tracker, smartphone, or pedometer to count your steps when you walk. You can set a goal to add more steps each week. Some trackers can also monitor other activity, such as using a wheelchair.

Plan active get-togethers

. Instead of meeting friends for dinner, plan a weekend bike ride. Or volunteer with your family to help clean up a local park.

Shake it up with a new fitness program

. Your Blue Shield plan may offer access to free or discounted fitness programs, including Fitness Your Way™ and, for members 65 and older, SilverSneakers®. These programs have both home-based and in-person fitness options. 
 
The bottom line: Moving more can help you get healthier and feel happier. So get out there and have fun.
Consult your doctor prior to starting an exercise program. Blue Shield of California is not a healthcare provider and does not provide medical advice. Always consult with your physician or other qualified healthcare provider with any questions regarding a medical condition. 
Y0118_22_219A1_C 05252022
The company complies with applicable state laws and federal civil rights laws and does not discriminate, exclude people, or treat them differently on the basis of race, color, national origin, ethnic group identification, medical condition, genetic information, ancestry, religion, sex, marital status, gender, gender identity, sexual orientation, age, mental disability, or physical disability. La compañía cumple con las leyes de derechos civiles federales y estatales aplicables, y no discrimina, ni excluye ni trata de manera diferente a las personas por su raza, color, país de origen, identificación con determinado grupo étnico, condición médica, información genética, ascendencia, religión, sexo, estado civil, género, identidad de género, orientación sexual, edad, ni discapacidad física ni mental. 本公司遵守適用的州法律和聯邦民權法律,並且不會以種族、膚色、原國籍、族群認同、醫療狀況、遺傳資訊、血統、宗教、性別、婚姻狀況、性別認同、性取向、年齡、精神殘疾或身體殘疾而進行歧視、排斥或區別對待他人。