The dentist will see you now – online!
With teledentistry, you can protect your smile from the safety of your home.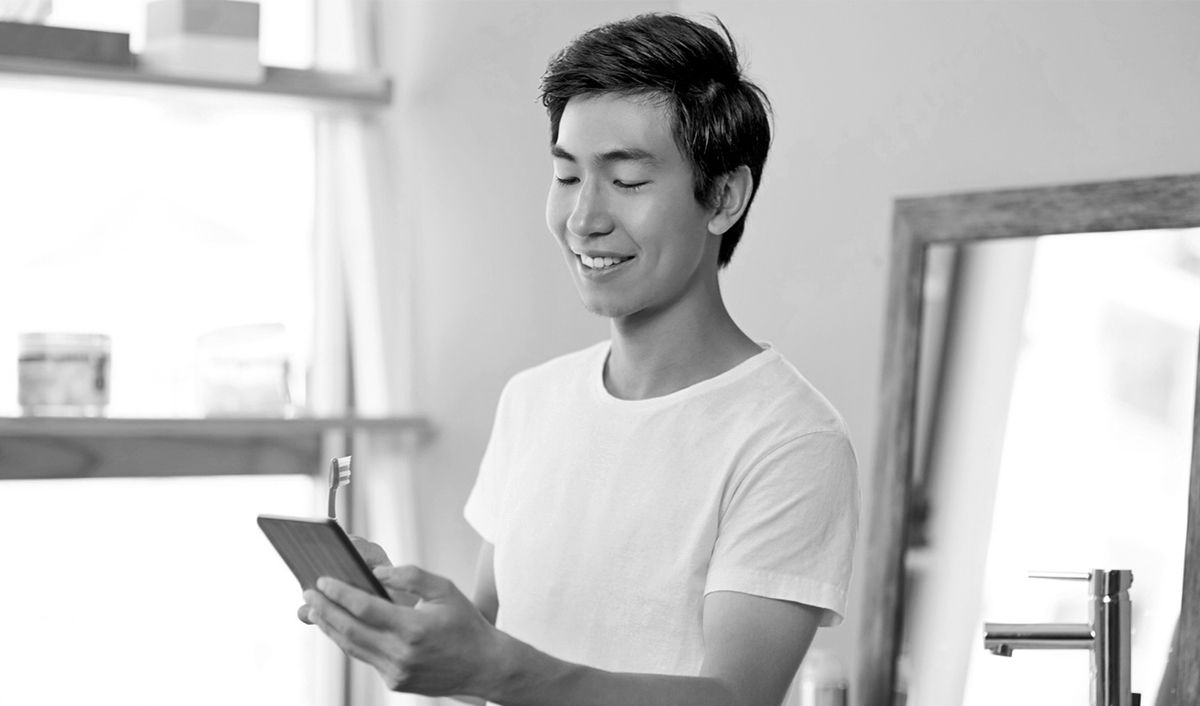 The American Dental Association's advice for oral health is fairly straightforward: brush and floss daily, limit your sugar intake, and see your dentist regularly. While the first two are easily done at home, visiting a dentist is proving more difficult in the wake of the COVID-19 pandemic, given that many dentists will only take in-person visits for emergency cases. Thankfully, teledentistry – aka virtual visits with a dentist – is a growing trend that can serve the dental health needs of many people. Plus, following the advice of dental health professionals does more than protect smiles. According to the American Heart Association, it may also protect cardiovascular health.
While virtual visits with primary care physicians or mental health professionals might be easier to imagine, there are many ways a virtual visit with a dentist can help protect oral health. In fact, teledentistry in its modern form has been around for about two decades. Preliminary research indicates teledentistry has the potential to increase access to, and efficiency of, care. And telehealth services, which can include teledentistry, are linked with helping reduce overall healthcare costs, according to the American Hospital Association (PDF, 116KB).
What is a teledentistry visit like?
Like a typical dental appointment, a virtual visit with a dentist is intended to promote oral hygiene as well as address any dental health concerns, both urgent and non-urgent. The dentist will usually ask a series of diagnostic questions and sometimes request photos or videos to view the mouth. Based on the situation, the dentist might make a diagnosis, suggest treatment options, or recommend a follow-up visit.
Although it might seem strange to consult with a dentist by video, many people actually come to prefer it since it can remove some of the anxiety often associated with an in-person visit. Teledentistry also expands the ability to provide care for people who live in a remote location, do not have access to transportation, or have a health condition that puts them at risk when they leave the house. Teledentistry is also a quick and convenient option for anyone looking for a second opinion on an oral health issue.
How to make a teledentistry visit
The process of setting up a virtual appointment with a dentist mirrors that of an in-person visit. First, you will most likely want to reach out to your regular dentist to see if they do teledentistry visits. If your dentist does not do virtual visits or you don't have a regular dental provider, most dental plans offer online search tools that allow their members to find local dentists. Once the member selects a dentist, the member can contact the dentist directly to see if they do virtual visits. Many plans also have a dental customer service number you can call to find a local provider. Then check with the provider to see if they do virtual visits.
Privacy in the age of technology is certainly an issue. The American Dental Association has laid out guidelines for protecting patient health information during virtual visits. Before scheduling an appointment, it's a good idea to review these guidelines with the provider to see what protocols they have in place.
After that, the process is straightforward:
 
Schedule an appointment

Submit insurance information for billing, same as you would do for an in-person visit

Find a location at home that is comfortable and private

Call in to the appointment using a phone or video

Consult with the dentist, sometimes using video or photo imagery of the mouth

Get a treatment plan or schedule a follow-up visit, if necessary
 
When to use teledentistry
 
While anyone can use teledentistry for their oral health needs, there are times when an in-person visit is necessary.
Teledentistry is helpful for:
 
Limited oral evaluations

Second opinions

Follow-up consultations

Visits when time, location, or health status makes it difficult to leave home
 
An in-person appointment might be necessary, especially in cases of:
 
In-person cleanings

Dental procedures

Chronic conditions affecting quality of life

Emergency situations
 
If the COVID-19 public health emergency, lack of convenient locations, or just plain dislike of the dentist has kept you from getting an oral checkup, teledentistry might be a perfect alternative to keep you healthy and smiling.